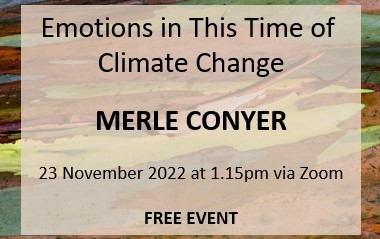 Date/Time
---
Date(s) - 23/11/2022
1:15 pm - 2:15 pm
Description
---
The climate crisis is being experienced in every country and on every continent. We are at a crossroads, with ecological breakdown threatening personal, societal and planetary wellbeing, together with an unprecedented opportunity to restore a more respectful and interdependent way of living.
Escalating threats and consequences can provoke emotions such as anger, fear, anxiety, despair, shame and betrayal. Associated grief is often disenfranchised with few contexts for acknowledgment or support. Complex emotions such as these are understandable reactions to what we are facing, and also healthy alternatives to numbing and denial, suggestive of deep caring and empathy for each other, future generations, and all that inhabits Earth. These can shape people's responses in multiple ways, including as powerful motivating forces for change and action. They can also foster determination, courage, creativity and meaning which in turn nurtures psychological wellbeing.
Therapists have a key role to provide safe, compassionate and supportive spaces for people to experience and cope with complex emotions, and to do so in a way that they don't become overwhelmed or disabled by them, or avoidant of facing the problems in order to circumvent the feelings. In this context therapeutic support also includes explorations for how people might find their own foothold in hope and pathways to life-affirming actions, ways of living and relating. Important too is not to pathologise strong emotions as mental health disorders but to locate the source of the problem within cultural contexts and political structures.
Insights shared will be informed by pluralistic clinical practice, group process, earth-based practices, creative expression, activism and emergent research.
Learning Objectives
• Develop insight into the wide array of climate change-related emotions that may be encountered in therapeutic contexts.
• Distinguish many ways that emotions can shape people's reactions and responses to the climate crisis.
• Develop your capacity to support people experiencing climate-related emotions to find pathways towards coping, meaning and action.
• Prepare for encountering and responding to climate-related emotions in your own practice and community.
About the Presenter
Merle Conyer works at the intersection of trauma, healing and justice with adults, service providers, organisations and communities. Through her independent practice she offers training, supervision, counselling, groupwork and wellbeing support.
Current contexts of contribution include health, legal, advocacy, government and community services, Aboriginal and Torres Strait Islander services, refugee and asylum seeker services, women's services, organisations facilitating redress for institutional and systemic abuse, and those contributing to human rights, social justice, and environmental justice.
Her approach interweaves interdisciplinary wisdoms such as trauma-specific practices, somatic psychotherapies, narrative therapy and community work, focusing, ecological psychotherapy, and is guided by clinical and cultural supervision from Aboriginal mentors. She is an Accredited Supervisor and Clinical Member with the Psychotherapy and Counselling Federation of Australia.