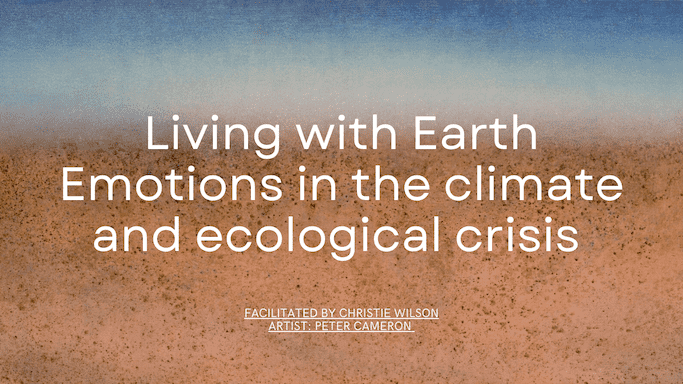 Date/Time
---
Date(s) - 21/01/2023
9:00 am - 12:00 pm
Description
---
Living with Earth Emotions in the Climate Crisis
Earth Emotions are the spectrum of feelings that we have ranging from mild anxiety to extreme dread, nausea, despair, and terror. As well as positive feelings of oneness with the Earth and her life forces. As the planetary systems are disrupted so are we, and globally people are experiencing deep-rooted emotions as we face ecological collapse.
Living with Earth Emotions is a 3-hour experiential, practical, and educational workshop where we explore psychological responses to the realities of a changing climate with a focus on interconnectedness, and ecology born out of the Australian context.
We aim to acknowledge and validate the many, often contradictory emotional responses such as solastalgia, eco-distress, ecological grief, eutierria, and tierra-furrie through guided group discussions, and we'll explore strategies for coping, a resilience rooted in community group work, compassion, and ethos of climate justice.
Participants will come away with a better understanding of Earth Emotions and climate-related mental health challenges, concrete tools for enhancing resilience, and a collection of resources for further exploration.
Living with Earth Emotions workshop holds space for 25 people
Facilitator:
Christie Wilson is a clinical psychotherapist, MA, and climate activist working with people at the front line of the climate emergency. She facilitates workshops on climate psychology for Psychology for a Safe Climate, developed the Regen101 program for Extinction Rebellion globally, and the Green Tea program with GreenLaw Network. Her work focuses on supporting people with Earth emotions, climate emotions, and the eco-psycho-social experience of engaging with climate change and climate justice.
In gratitude for the care and ongoing support: Glenn Albrecht, Environmental Philosopher and author of Earth Emotions presented on Earth Emotions prior to the first workshop in 2019, in Sydney Australia before the 2019/2020 Black summer fires and has continued to be a major supporter of the work.
"To be a part of the development of the Living with Earth Emotions workshop is an honor because to see an educational and training program that contains the elements of Earth Emotions and is guiding people from the hugely negative into what is hopefully the constructive positive is entirely compatible with my life's work" Glenn Albrecht
In gratitude for the ongoing support and sensitivity from Artist: Peter Cameron offers an invitation to consider perceptions about Australian land. Through observing and listening quietly we become more aware of the countless systems of living elements interrelating across the country. "For me, painting in place further develops these senses"