Ahead of our Psychology for a Safe Climate workshop, Look up and face the climate crisis together on the evening of the 15th of February, we have been sharing a series of articles and reflections on the movie Don't Look Up, over the last week on Psychology for a Safe Climate's Facebook Page.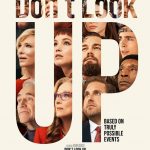 Directed by Adam McKay and starring Leonardo DiCaprio, Jennifer Lawrence, Meryl Streep and Jonah Hill #dontlookupmovie is a satirical comedy about two astronomers who discover a planet-killing comet heading for Earth and try to warn the world. The response is not what they expect. Released on Netflix on Christmas Eve, Don't Look Up has smashed a series of records for the streaming platform. It has also stimulated a great deal of conversation.
Journalists, critics and the media – who are heavily criticised in the movie – have often given it poor reviews; but many climate scientists like Dr. Peter Kalmus (@ClimateHuman) and Dr. Ayana Elizabeth Johnson (@ayanaeliza) have said that the movie feels like a real portrayal of their lives.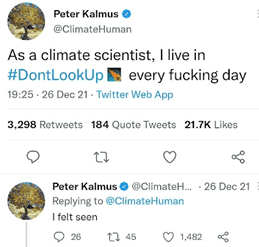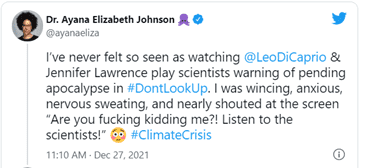 Professor Jem Bendell (a strategist and educator on social change, focused on Deep Adaptation to social breakdown) says that reviewers slagging the film have usually misunderstood it, as he writes in this article on Why Pundits 'Don't Look Up' from Progress.
Dr. Kalmus writes about the movie in his article for the Guardian – I'm a climate scientist. Don't Look Up captures the madness I see every day.
You can also watch some first responses to scenes from the film by scientists (including climate psychologist Dr. Britt Wray).
One interesting aspect of the film is its portrayal of climate psychology, with Dr. Britt Wray saying it may be the first climate psych film.
Therapist Dr. Ariella Cook-Shonkoff says that The existential panic in "Don't Look Up" is real. I see it in my clients. She found the film an ominous cultural critique, and perhaps a useful Trojan Horse to enlighten the masses about climate psychology in the guise of entertainment. She discusses how there is "something psychologically very apt about the film" and the characters reactions. The film demonstrates examples of anxious avoidance, psychological defence mechanisms and the psychological complexity we face trying to discuss the existential crisis of climate change. The movie also portrays five myths that support climate denial, as this article explores.
The movie also provides an interesting test of whether comedy can be used to break through climate apathy and reach a wider audience than other forms of climate communication. Professor of Climate Justice and author Naomi Klein, is excited about the cut-through the film is achieving. According to her, director Adam McKay is a genius, "And I think this is his best work yet". The success of the film is also likely to lead more directors to venture into climate topics, which can only help to get the message of the need for urgent action across.
If you'd like to learn more about the psychology of climate denial and how to have climate conversations, check out our Psychology for a Safe Climate publications, 'Let's speak about climate change' and 'Facing the Heat', available free here: https://psychologyforasafeclimate.org/publications/
The filmmakers have created a website to accompany the movie – dontlookup.count-us-in.com/ – with a host of ways to take action on climate change in response to the film. We feel this website has too strong an emphasis on personal, rather than collective and systematic responses, however, so for further reading we strongly recommend Sally Weintrobe's book – Psychological Roots of the Climate Crisis.
—
Have you watched the movie? What did you think? Do you think this movie help raise awareness of climate psychology? Join us to discuss further at our workshop, let us know what you think on Facebook or send us a message.