Talking to children and young people about the climate crisis can be really challenging, and it is one of the most common concerns that parents, teachers and carers raise. They want to know how to help their kids feel hopeful and ready for action, how to prevent them despairing about their futures, and often they aren't even sure if they should talk about the climate with their kids, for fear of upsetting them. Thankfully, there are a growing number of resources to help you have these conversations, and to encourage you to talk to your kids about the climate, and their climate anxiety.
(We recently published this series of resources on #KidsandClimateAnxiety on our Facebook Page. For more great resources and articles to read, please 'Like' our page.)
Here are some of the best we have found so far:*
ONE: Introducing Climate Anxiety
This article introduces the issue of kids and climate anxiety:
"Every person on Earth has grown up with their own generation's crises and dilemmas. But today's kids are dealing with something that's unprecedented in human history: They're trying to survive in a world marred by climate change, while also leading widespread action against it."
TWO: How Young People Feel
This article comes from Wales, but makes some great points about how young people are feeling about climate change, and the fact that climate anxiety is made worse by a sense of powerlessness that comes from seeing politicians and big businesses not moving fast enough to address the issue.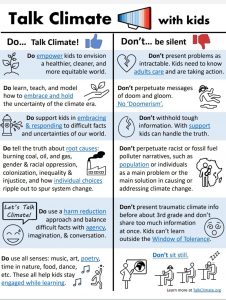 THREE: How to Talk to Kids About Climate (webinar and guide)
Here is a new resource from Our Kids Climate on how to talk to children about the climate crisis. Watch the webinar and download the guide here. 
FOUR: How to Talk to Kids About Climate (handouts)
Here is a great handout on how to talk to children & young people about climate. Download an Infographic or PDF here.
FIVE: A Resource for teachers and communities
Writing a Letter to the Earth can be a simple and powerful way to deepen our connection with the natural world and the people we are sharing it with. Click here to download:
Education Toolkit Ages 4-11
Community Toolkit
Education Toolkit Ages 12-16
*If you have found another great resource for our list, please let us know.