A webinar on "The mental health burden of climate change" featuring Dr. Emma Lawrance, Dr. Britt Wray, Dr. Elaine Flores and chaired by Dr Julian Eaton was held recently as part of London Climate Action Week. The recording is now available here.
If you don't have time to listen, this series of three blogs will provide some of the highlights:
Dr Elaine C. Flores: "Living amongst environmental threats – a Peruvian perspective."
Watch from 23:13- 38:32
Dr Elaine Flores is a Research Fellow in Planetary Health, Peruvian Medical Doctor, researcher and member of the Centre for Global Mental Health.
Dr Flores began by outlining that climate related disasters are increasing in frequency, severity and duration.
For example, Figure 1 compares disaster impacts from 1980 – 1999 and 200 – 2019.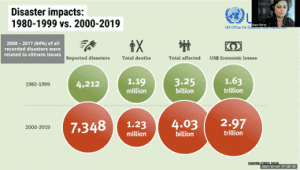 Figure 1
Thus, climate change is already impacting social, economic and environmental determinants of mental health, especially in disadvantaged communities and populations (due to structural challenges such as poverty, inequality, poor land planning etc).
Women, girls, minorities, indigenous groups etc. are particularly vulnerable.
The mental health impacts of disasters are related to both primary factors (proximity to the disaster and level of impact it had on them), and secondary (indirect factors such as vulnerability).
The worst Mental Health outcomes occur in low to middle income countries.
Dr. Flores then focused on the example of the impact of El Nino on Peru.
There was a significant 2016 global El Nino event, followed in Feb to April 2018 by another event that affected Ecuador and Peru, creating a large amount of damage including landslides and flooding.
Dr. Flores' team conducted a cross-sectional study one year after the landslides, in the outskirts of Lima, Peru. This area was badly affected, and had experienced poor living conditions even before the disaster.
The study aimed to determine the long-term prevalence of post disaster mental disorders, and links with socioeconomic determinants, and the exposure level to the disaster. See Fig 2.
Figure 2.
The study found high numbers of unreported and untreated mental health disorders.
Some age groups were more likely to develop PTSD than others.
Higher income households were more protected from PTSD.
Women had higher levels of anxiety; and living closer to the river was directly associated with mental health outcomes (a lack of post flooding reconstruction and persistent poor living conditions was perpetuating poor mental health outcomes).
They also studied perceptions of El Nino and the support these communities received.
It was found that almost all participants were unaware of the impact of climate change on their experience.
They concluded that:
Unequal contexts increase vulnerability to environmental disasters
There will be long term mental health consequences if these communities remain untreated and unsupported.
Work needs to be done to promote resilience, increase post-disaster wellbeing and decrease psychosocial suffering.
Watch the full webinar.