Psychology for a Safe Climate (PSC) is a not-for-profit organisation founded in 2010 in Melbourne, Australia, to foster emotional engagement with climate change. PSC was founded in response to the lack of individual and community commitment to address the climate emergency.
As psychologists and other helping professionals, we aim to use our professional knowledge and skills to increase understanding and engagement with the psychological impact of climate change.
Our purpose is to support people in facing the reality of the climate emergency. We aim to build people's capacity to respond constructively to climate change by promoting and strengthening mental health and wellbeing.
We engage with those working on climate change, the caring professions, and the broader community.
Recognising that emotions are often what leads people to act, it is possible that feelings of ecological anxiety and grief, although uncomfortable, are in fact the crucible through which humanity must pass to harness the energy and conviction that are needed for the lifesaving changes now required.

The Lancet: Planetary Health, July 2020
In all activities we uphold PSC's values:
Care and compassion
Wellbeing
Integrity
Our values inform the work we do to support people in facing the climate emergency.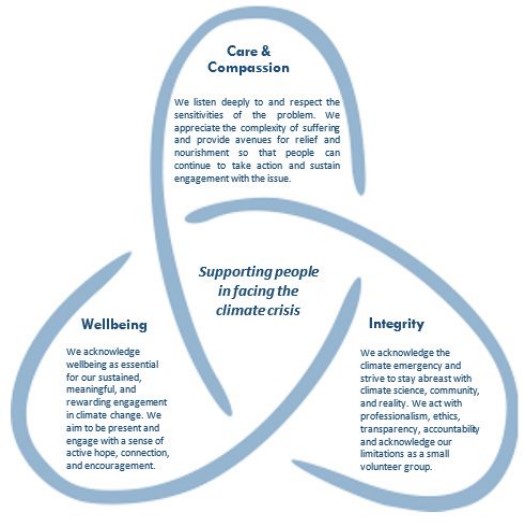 PSC's Strategic Plan for 2022 to 2024 sets out our vision to:
Respond to the growing demand and needs in community and organisations, and to deliver our core offerings in a sustainable and strategic manner
Create a strong network of engaged psychologists, psychiatrists and counselling professionals across Australia who can offer support to their own local communities in engaging with the climate emergency
Build our leadership role in the community, and advocate psychosocial wellbeing as essential to transformational action on climate change
 Download PSC Strategic Plan 2022-2024
Read about PSC's activities and achievements in our Annual Reports.